Jurnal Penelitian Hukum Legalitas websites is a migration from the previous website address (http://ejournal.jayabaya.ac.id/index.php/Legalitas/index). This data migration is due to a technical error in our website system.
Jurnal Penelitian Hukum Legalitas is published duo-annually in May and November, and aimed to provide research articles in order to have a significant implication to the world of law. The Journal's primary objective is to bridge the gap between theory and practice in law studies. Every article contains empirical results, research methods, managerial implication and latest references from primary sources. The Journal is highly relevant to all professionals, directors, managers, entrepreneurs, professors, academic researchers and graduate students in the field of Law studies.
Jurnal Penelitian Hukum Legalitas aimed at bridging the gap between theory and practice as well as the significant implications of the legal world. Each article contains the results of research in the field of criminal law, civil, constitutional and international law.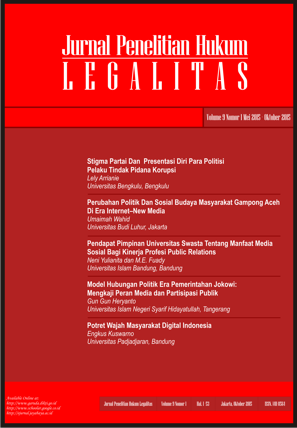 Announcements
No announcements have been published.
Vol 9, No 1 (2015)
Table of Contents
Artikel