Manajerial websites is a migration from the previous website address (http://ejournal.jayabaya.ac.id/index.php/Manajerial/index). This data migration is due to a technical error in our website system.
Manajerial is published duo-annually in May and November, and aimed to provide research articles in order to have a significant implication to the world of management. The Journal's primary objective is to bridge the gap between theory and practice in management studies. Every article contains empirical results, research methods, managerial implication and latest references from primary sources. The Journal is highly relevant to all professionals, directors, managers, entrepreneurs, professors, academic researchers and graduate students in the field of management studies. Manajerial is the dissemination of research results or academic review covering all areas of management, but not limited to, business ethics, business strategy, entrepreneurship and innovation, information systems, study international business and cross-cultural, marketing, research organizations and the general management and supply chain and operations management. Managerial journal aims to present the latest thinking and research on key management topics in the form of articles that meet high standards of academic quality, while still being accessible to non-specialists.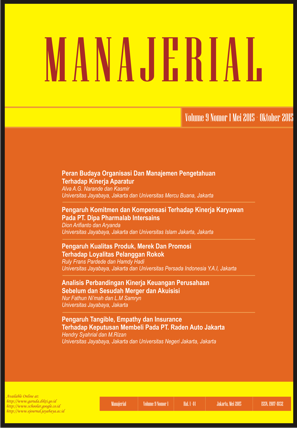 Announcements
No announcements have been published.